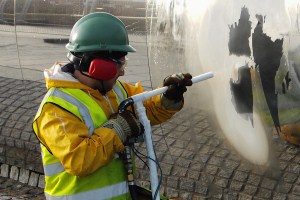 Dry ice blast cleaning is an industrial cleaning process, proven in a remarkable variety of industries throughout the world. Gardiner Technical Services are experienced in offering this as a service.
Particles of solid carbon dioxide are propelled at a high velocity to impact and clean a surface. Compressed air accelerates the particles to supersonic speeds. The particles convert to gas on penetrating the contaminant lifting the contaminant from behind while leaving the substrate undamaged. These are delivered via a hand held nozzle at the surface to be cleaned.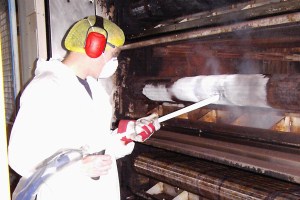 The pellets of dry ice disappear as soon as the cleaning cycle is complete. The approach is one of the most environmentally friendly methods of surface cleaning. Compared to solvent or chemical cleaning, there are no toxic fumes, no hazardous liquid wastes to dispose of and, as CO2 is inert, no chemical reactions take place. The CO2 is reclaimed carbon dioxide from other processes so is virtually carbon neutral.